About the Founder of NPPA
We are deeply saddened to report the passing of
NPPA's Founder:  Dale J. Kroll,
At 73 years of age, on July 19, 2020
Read NPPA's now-President Francine Morgano's Editorial
About Dale and their history working together,
In their member-publication Pharmacy Purchasing Outlook, HERE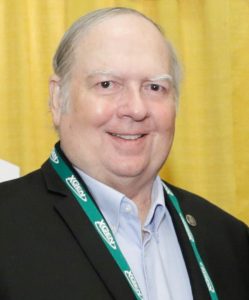 Dale J. Kroll:  NPPA Founder
  Dale J. Kroll, a native of South Bend, Indiana, earned a Bachelor of Arts degree in Economics from the University of Notre Dame in 1970.  He began his pharmacy career in the early 1970's at Bronson Methodist Hospital in Kalamazoo, Michigan (450-beds) as a Pharmacy Technician, and soon after became their Pharmacy Buyer.
  Dale transitioned to group purchasing in 1977 with Pacific Health Resources in Los Angeles, California, who had 9 member-hospitals at the time.  In 1986, Dale moved to San Diego in order to take a new position as the first Pharmacy Contract Administrator for American Healthcare Systems, another group purchasing organization (GPO) who had 1,000 member-facilities at the time.
  In 1991 Dale decided to try a completely new venture, on his own, when he left corporate life and founded the publishing firm Summerdale Enterprises in 1991 to write about various things he was passionate about. In March 1994, he published the first edition of Pharmacy Purchasing Outlook (PPO), to mail to hospital pharmacy buyers across the country, asking them to become subscribers.  (Today, PPO is the official member-publication of NPPA.)  Dale then started driving cross country to meet with his subscriber-buyers and interview them, but discovered it was very difficult to follow through with when most buyers are too busy putting out last minute fires on the job to allow them to keep the appointments he setup with them prior.  
  Thus, in 1997, Dale instituted the Annual Pharmacy Purchasing Networking Conference in Las Vegas, a tradition which has grown every year.  In January 2010, his company officially added a "DBA" for the Association name it is known as today:  National Pharmacy Purchasing Association (NPPA), and transitioned the official event name to thereafter be called the "Annual NPPA Conference."
  Since mid-1994, and at every single conference, Francine Morgano worked with Dale in his home condo office on both the publication and the conference, long before the company hired other employees and moved to a devoted office space.
  On July 19, 2020, Dale J. Kroll sadly passed away, peacefully at home, at the age of 73 (his death was not COVID-related). Francine then took over as the new President & CEO of NPPA, per Dale's last wishes.
  After Dale's death, Francine wrote an article about Dale and their history working together over the years that appeared as an Editorial in an edition of PPO, which can be found HERE.