About the Founder of NPPA
We are deeply saddened to report the passing of
NPPA's Founder:  Dale J. Kroll,
At 73 years of age, on July 19, 2020
Read NPPA's now-President Francine Morgano's Editorial
About Dale and their history working together,
In their member-publication Pharmacy Purchasing Outlook, HERE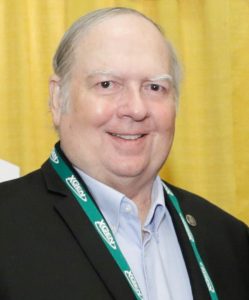 Dale J. Kroll:  NPPA Founder
  Dale J. Kroll, a native of South Bend, Indiana, earned a Bachelor of Arts degree in Economics from the University of Notre Dame in 1970.  He began his pharmacy career in the early 1970's at Bronson Methodist Hospital in Kalamazoo, Michigan as a Pharmacy Technician, and quickly became the Pharmacy Buyer of this 450-bed hospital.
  He transitioned to group purchasing in 1977, when at Pacific Health Resources in Los Angeles, California, a nine-hospital group, he became the first Pharmacy Contract Administrator for Associated Hospital Systems, which eventually merged with other purchasing groups and became American Healthcare Systems (AmHS).  In 1986, he was hired directly by American Healthcare Systems, which had established a corporate office in San Diego, where he continued as the group's (then comprised of over 1,000 hospitals) Pharmacy Contract Administrator.
  As an entrepreneur, Dale founded the publishing firm Summerdale Enterprises in 1991, and began Pharmacy Purchasing Outlook newsletter in March of 1994 (now the official member-publication of NPPA, of which he presides as Editor-In-Chief).  At the beginning of 2006, the company incorporated, becoming Summerdale Enterprises, Inc.  In 1997, Dale instituted the 1st Annual Pharmacy Purchasing Networking Conference in Las Vegas, Nevada, a tradition which has grown every year, with 2019 being the 23rd Annual!  In January 2010, the company officially added a "DBA" for NPPA (National Pharmacy Purchasing Association), and transitioned the official event name to thereafter be called the "Annual NPPA Conference."  Dale also occasionally consulted and spoke in the field of his expertise, pharmacy purchasing. 
  On July 19, 2020, Dale J. Kroll passed away, peacefully at home, although unexpected (not COVID related).  Read NPPA's now-President Francine Morgano's Editorial about Dale and their history working together in their member-publication Pharmacy Purchasing Outlook, HERE.