Hotel Reservations & Info – 2022 NPPA Conference
NPPA's 2022 Group Room Block, Bally's Las Vegas
$99/night+tax guaranteed thru July 12, after which might be higher
Plus Resort Fee-$35/night+tax (discounted ONLY for NPPA guests
in our "2022 NPPA" Room Block, regardless of booking date)
Includes:  In-Room Wi-Fi for 2 Devices, Fitness Center for 2, Free Local Calls

After August 2, ONLY Phone Reservations Available
Call: 800-358-8777

Be Sure To Request Room Under "2022 NPPA"
For DISCOUNTED Resort Fee of $35/night+tax (otherwise $39+tax)
Fee of $15 for Call-In Reservations (one-time charge)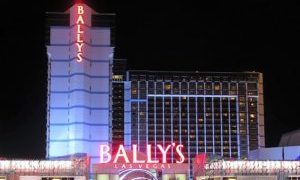 Covers Dates of Sunday 8/7 through Thursday 8/11
3 days before & after also available, on a limited basis
   Book your hotel room at the 2022 NPPA Conference headquarters, Bally's Las Vegas, in their North Resort Tower rooms, which were fully remodeled top to bottom– in spring of 2018 (see photos below).  The Resort Tower rooms all have new beds, carpet, bathrooms, and other furniture—and, a mini-refrigerator as well!
  The NPPA rate for these rooms are $99/night+tax, with a mandatory Resort Fee of $35/night+tax.  Resort Fee includes the following (on a daily basis):  "Premium" Wi-Fi for 2 Devices (in sleeping rooms), Fitness Center Access for 2, and Free/Unlimited Local Phone Calls.
  These rates are guaranteed when booking under the NPPA Group Room Block by July 12, 2022.  After the cutoff date, this rate may or may not still be available, if the hotel is able to extend it further and the rest of the hotel is not sold out or close to it.
  WIN A FREE HOTEL NIGHT (3 CHANCES):  from all the NPPA registered Pharmacy Attendees who book their hotel at Bally's Las Vegas, the 2022 NPPA Conference headquarters! Simply make your Hotel Reservations at Bally's Las Vegas, for the 2022 NPPA Conference.  After the show, from our final rooming reports from the hotel, all NPPA guests will be entered in a random drawing, for 1 of 3 lucky registered Attendees, to be awarded 1 FREE HOTEL NIGHT ($99.00 plus tax and $35 plus tax Resort Fee).  The 3 winners will be refunded by check, after the Conference.  Exclusions for this promotion:  GPO, Scholarship & Speaker-Attendees, or Vendor-Exhibitors, do not qualify.
   Location/Directions for all:  The Resort Tower sleeping rooms are in the same Tower as our Meeting Space & Exhibit Hall, which means everything is easily and quickly accessible from the elevator that connects to your sleeping room!  The NPPA Conference Lecture Hall where the main educational sessions are held, is located downstairs in the Ground level's Grand Ballroom space (also where provided breakfast meals will be located).  The Vendor-Exhibit Hall will be in Bally's Events Center space, which is at the end of the same hallway as the Grand Ballroom location for our Lecture Hall.  To get to either location from your sleeping rooms, come down the Resort Tower elevator, take an immediate left and you'll enter the hallway for the Ground/Casino Level Meeting Rooms.  Check-in for both Attendees & Exhibitors is in the Grand Salon area just outside of the Grand Ballroom.  Lastly, our Opening Reception will be held on the 26th Floor, in SkyView Rooms 5/6 (same Tower).  Click on the following link to a Map of the Resort Tower Convention Rooms:  HERE.
   NPPA's Vendor-Exhibitors should be pleased at the carpeted and expansive Bally's Events Center space where the Exhibit Hall will be held. There is plenty of room for all the exhibitors and the attendees calling on them, without it being over-crowded.
  Bally's, a Caesar's Entertainment property, is not only in the middle of all the action on the Vegas Strip, but it even has the Paris Hotel attached to it (another Caesar's property), with the entrance to each within one indoor complex, so that you don't need to go outside first, which can be a huge benefit when it's summertime in Vegas.  Just go to one side of the casino, through an archway, and suddenly, you're in the other hotel!
  However, what is attending a conference without its distractions?  Bally's boasts nearly a dozen restaurants, ranging in both price and variety to suit every need and budget.  This doesn't even include the full-service Fast-Food Court that is located downstairs along with other shops (boutiques, gifts, etc.)  And the fact that with Paris Hotel down another hallway of the complex, it means that you also get all of the Paris restaurants available to you with just as easy an access, giving you DOUBLE the number of restaurants and other amenities in close walking distance, all without having to venture outside!
  Las Vegas Monorail Hours of Operation & Information:  Bally's hotel even has a monorail stop in their hotel, downstairs from the Casino area down the escalators near the pool area, at the end of the shopping mall and fast food courts.  Skip the traffic and get to your destination on The Strip in less than 15 minutes, with trains arriving at each station (such as Bally's) every 4 to 8 minutes until closing time each late night. Hours (for all locations) are:  Monday 7 am-12 midnight, Tuesday through Thursday 7 am-2 am, and Friday through Sunday 7 am-3 am. Ticket Costs are:  $5 one-way, $13 for daily unlimited pass, and more options. For details, visit:  www.lvmonorail.com
  Check-In & Check-Out Times:  Bally's arrival check-in time starts at 4:00pm. If you arrive early, you can either wait and they will store your bags at the Bell Desk until your room is ready, or you they will charge you an additional fee for an early check-in.  Upon departure, check-out time is by 11:00am.  If you need to check-out later than that, you may call the Front Desk that morning (or sometimes the night before), to see if they can approve your request.
  Parking Fees for Hotel Guests:  Self-Parking at Bally's Las Vegas for registered hotel guests now comes with daily fees, based on what day of the week your stay is over.  Monday through Thursday is $18/day; and Friday through Sunday is $23/day.  However, if you are a Platinum, Diamond, or Seven Star Rewards member of Caesars property hotels, self-parking is free.  See additional details at:  www.caesars.com/parking (and be sure to scroll further down the page to view the correct city's parking information, to the section titled "Parking Costs: Las Vegas Properties").